As a Realtor, I often hear versions of this question, should I buy a new home? Whether you're buying your first home or selling your current house, if your needs are changing and you think you need to move, the decision can be complicated. We all want to know, is it smart to buy a home Today – right now? One thing to consider, is that this is an age old question and one that people have been asking for generations of time. However, it will always remain a big decision and deserves consideration in any market. You may have to take personal or professional considerations into account, and only you can judge what impact those factors should have on your desire to move.
Finding the answer to the question
The easiest way to approach this question is starting at the basics. Let's take the financial approach. When deciding to buy now or wait until next year, the financial aspect of the purchase is easy to evaluate. You just need to ask yourself two questions:
Do I think home values will be higher a year from now?
Do I think mortgage rates will be higher a year from now?
From a purely financial standpoint, if the answer is 'yes' to either question, you should strongly consider buying now. If the answer to both questions is 'yes,' you should definitely buy now. The most important indicators are demonstrating that it is a very smart decision to buy a home today.
Nobody can guarantee what home values or mortgage rates will be by the end of this year. Currently, experts in both the local and national stage seem certain that the answer to both questions is a resounding 'yes.' Mortgage rates are expected to rise and home values are expected to appreciate in value. We experienced a rate increase just last week in our local market but the rates remain at a very low rate. Home values locally are expected to rise throughout 2021 and into 2022 with some experts stating that it will last into 2023.
What does this mean to you?
Let's take a look at how waiting can impact your financial situation. The assumptions made in this example are:
The experts are right – mortgage rates will be 3.18% at the end of the year
The experts are right – home values will appreciate by 5.9% – a low estimate in our current market.
You want to buy a home valued at $350,000 today
You decide on a 10% down payment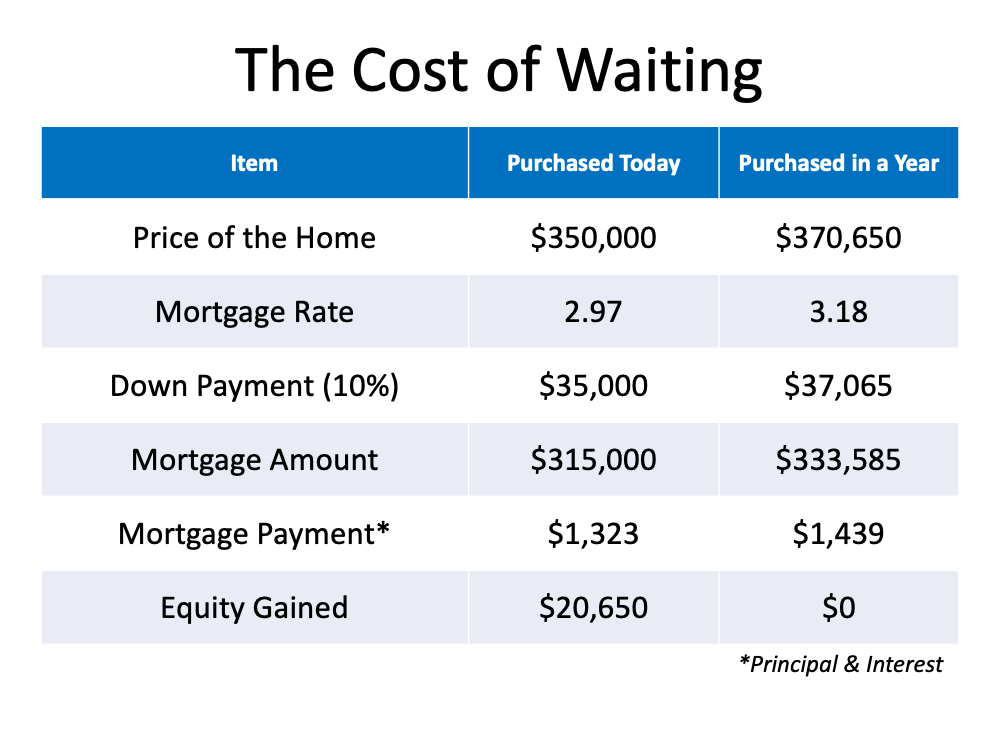 Here's the financial impact of waiting:
You pay an extra $20,650 for the house in the example above.
An additional $2,065 for a down payment will be required
Your mortage will increase by an extra $116/month in your mortgage payment ($1,392 additional per year)
You don't gain the $20,650 increase in wealth through equity build-up
Bottom Line
There are many things to consider when buying a home. However, from a purely financial aspect, if you find a home that meets your needs, buying now makes much more sense than buying next year.
Start Searching Today
If you are interested in what is in the market please feel free to begin searching today at FIND MY HOME
This blog post is in partnership with Keeping Current Matters and Cindy DeHart EXIT Realty Success